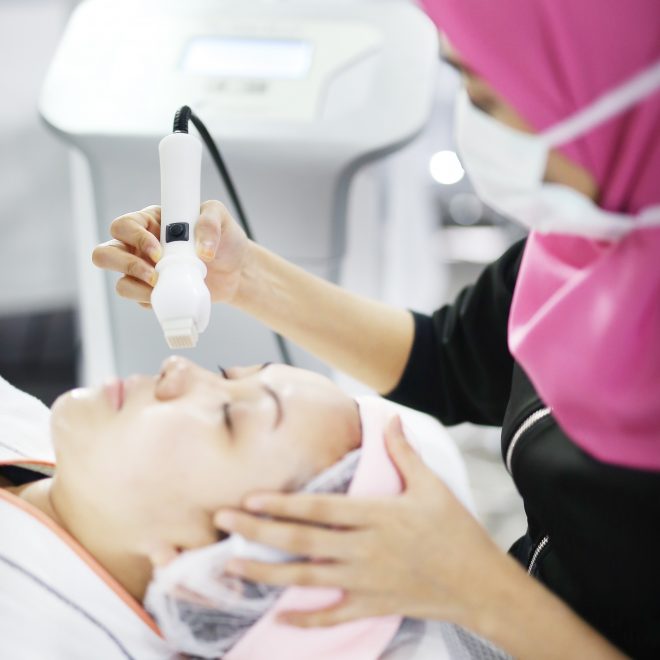 Esthetics is the application of various treatments to the skin, to maintain its health and vitality. Estheticians like NSC's are trained in skin wellness, helping their clients balance oil and moisture content and achieve a healthy, youthful complexion. As well as various facial treatments, they commonly also perform body treatments such as body scrubs or lulur, hair removal techniques such as laser hair removal, to treat the specific areas and rejuvenate the skin.
A variety of treatments and products are used to protect skin from environmental hazards and combat fine lines, wrinkles, and a dull, uneven skin tone. If you're being treated by a dermatologist as in NazirinSkin Clinic, your esthetician can provide complementary and support therapies. In addition, estheticians are trained to recognize early signs of many medical conditions affecting the skin, and will refer you to a dermatologist in such a case.And finally, skin care treatments are wonderfully relaxing and rejuvenating.
First time trial or continued maintenance
If smooth, healthy skin is your goal, visiting skin care professionals like NSC can benefit you. Techniques used by estheticians include facial steaming, wrapping, exfoliation, pore cleansing, extraction, and chemical peels. Creams, lotions, wraps, masks, and herbal scrubs are used. Machines may also be used to help deliver treatments based on applied science.
Right now until 30th of September 2019 would be the right time for you to find out the right treatment for your skin concern. Or if you want to continue your skin maintenance, NSC within this time period has an array of therapies that may suit your needs.
Radiofrequency Microneedling &
Platelet Rich Plasma

NOW available for RM620
The application of these treatments in the hands of experienced and professional therapists have been proven to generate the following outcomes:
 Treats Pigmentation Spots
 Reduces Wrinkles around eyes
 Treats Acne Scarring


 Rejuvenates the skin
 Encourages collagen production
Microdermabrasion Face

NOW available for RM262
The application of these treatments in the hands of experienced and professional therapists have been proven to generate the following outcomes AGAINST:
 Premature Aging


 Uneven Skin Tone


Skin Congestion
Chemical Peel Face

NOW available for RM162
The application of these treatments in the hands of experienced and professional therapists have been proven to generate the following outcomes:
 Brightens skin
 Diminishes lines & wrinkles
 Evens out skin tone
 Increases collagen & elastin
 Lightens unwanted pigmentation
 Lightens acne blemishes
 Smoothens out rough skin
Oxygen Peel Face

NOW available for RM162
The application of these treatments in the hands of experienced and professional therapists have been proven to generate the following outcomes:
For all skin types
Refreshes dull & tired skin
Reduction in lines & wrinkles
No injections
No downtime