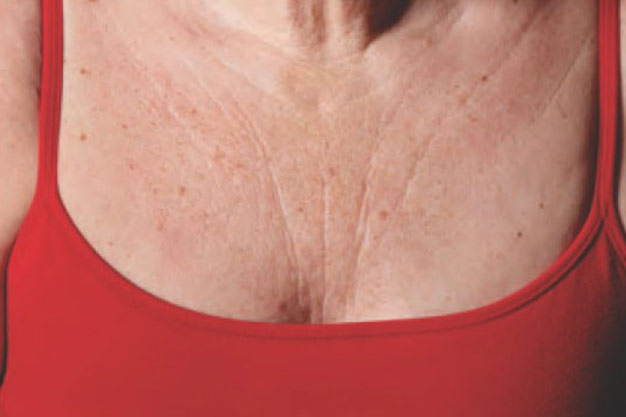 Noticing a few new lines and wrinkles popping up when you look in the mirror? We feel you. It happens! But if you're not keen on letting those bad boys settle in for the long run, know that it's never too early (or too late!) to get your anti-ageing skin care routine on track.
But it sure ain't easy to know where to start, especially when the market is flooded with products that claim to do so much – it can all seem a teeny bit overwhelming (especially when you splurge on beauty products that don't live up to their promises). That's why we've done the hard work for you and brought you eight things you can do to help fight the signs of ageing.
1. Start using a retinol treatment
If you haven't started using retinol, get amongst it! It's hands down one of the best anti-ageing ingredients getting around. Retinol (which is a form of vitamin A) is a real workhorse when it comes to reversing the signs of ageing, and offers huge benefits for a variety of skin concerns. This superstar ingredient works as an antioxidant to protect the skin from free radicals, increase collagen production, and speed up cell turnover (by exfoliating the skin). Other than its brightening benefits and ability to even out skin tone and reduce pigmentation, retinol can also reduce the appearance of wrinkles and fine lines, and even treat breakouts (it's a dream for all skin types, but especially oily skin).
Before you jump on board, just be mindful to ease yourself into it – because applying products with a high percentage of retinol in the formula may be too much for your skin to handle straight off the bat. Start with formulas that have less than one percent retinol and use only one retinol-enriched product to begin with.
2. Choose a daily moisturiser with anti-ageing properties
It can be tricky to find a face cream that'll address all your anti-ageing concerns in one shiny little tub, but you just have to know what to look for. The best wrinkle creams contain ingredients like alpha hydroxy acids (AHAs) and beta hydroxy acids (BHAs), vitamin C, hyaluronic acid, peptides, and niacinamide. These ingredients work in combination to hydrate, plump, gently exfoliate skin cells and reduce the appearance of fine lines and wrinkles.
It's also important to remember that anti-wrinkle creams aren't a magical solution that will work instantly – they have to be applied regularly and twice a day (your daily moisturiser in the morning and a night cream before bedtime) in order for you to see results.
3. Pay more attention to your neck and décolletage
While most of us have our cleansing and moisturising routine down pat, how many of us forget to pay attention to our neck and chest? (Don't worry, we're all guilty of this). Neglecting the neck and décolletage can result in that area being more susceptible to ageing (re: that dreaded crepiness). And unfortunately, it's not just a matter of chucking the same stuff for your face down to your chest. The sensitive skin in this area is completely different to the skin on your face, so we can't treat it as aggressively.
It's best to look for formulas that are created specifically to treat this area; keep an eye out for products containing retinol or AHAs as these type of ingredients will resurface wrinkles and fade uneven tone, while ingredients like hyaluronic acid will improve texture and hydration.
4. Switch out your usual lip balm for one with anti-ageing ingredients
Lips are often left out of the anti-ageing circle. Yet, similarly to the eyes, your mouth is one of the first areas to show signs of ageing. As we get older, our lips lose collagen and elastin and moisture levels decrease, causing dehydration and thinning. There are a whole load of factors that can contribute to deeper creases and loss of volume, including smoking, sun damage, and even the way you drink!
So, if your current lip routine just involves swiping on lip balm when your lips are feeling chapped, there's definitely more you can do to keep them looking younger and plump. There's a load of new souped-up lip balms on the market that deliver anti-ageing ingredients and hydration at the same time, and many are packed with age-fighting goodies such as ceramides, hyaluronic acid, peptides and antioxidants.
5. Upgrade your pillow
While we're all on board with getting more beauty sleep, you might not be aware that you could be adding more wrinkles to your face simply by snoozing. Yep – over the years, repetitive pressure and friction on the skin can age your skin dramatically. The answer? Anti-ageing pillows.
If you can't learn to sleep on your back (guilty!), silk pillowcases are your best option for a wrinkle-free sleep. Upgrade from your cotton pillow case to a silky number – the slippery surface causes less friction, helping to stop those deep wrinkles from forming.
6. Wear SPF…EVERY single day
This is by far the best anti-ageing product you can use, people. Most of our skin damage occurs when we are young, so using an SPF from an early age will dramatically reduce the amount of ageing you will see in later life. That being said, it's never too late to start!
Applying sunscreen with a high SPF every single day will go a long way towards keeping your skin looking youthful and healthy.