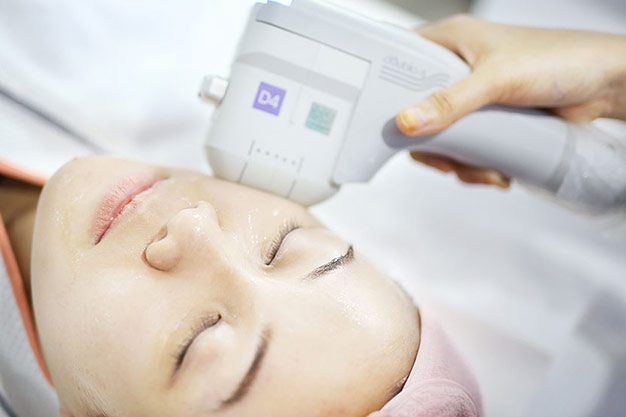 Overview
High-intensity focused ultrasound (HIFU) is a relatively new cosmetic treatment for skin tightening that some consider a noninvasive and painless replacement for face lifts. It uses ultrasound energy to encourage the production of collagen, which results in firmer skin. HIFU was then approved by the Food and Drug Administration (FDA) in 2009 for brow lifts. The device was also cleared by the FDA in 2014 to improve lines and wrinkles of the upper chest and neckline (décolletage).
People were able to see results in a few months after treatment, without the risks associated with surgery. The cutting-edge High-Intensity Focused Ultrasound (HIFU) technology is the ultimate tightening and contouring solutions to restore youth without downtime by target three key skin layers, with the precise ultrasound waves which zap energy deep into the skin, it can reach and transform skin at each layer.
It will smooth lines, stimulate and formulate collagen regeneration, triggers neo-collagenesis naturally in the skin for new growth collagen, it will also improve skin texture and minimize surface imperfections and lifts skin to creates a V-shape effect. After just one treatment, it will provide immediate results – fewer wrinkles, tightened jowls, smaller pores, a noticeable V-shaped face, skin is tightened and rejuvenated.
HIFU facial
HIFU uses focused ultrasound energy to target the layers of skin just below the surface. The ultrasound energy causes the tissue to heat up rapidly. Once the cells in the targeted area reach a certain temperature, they experience cellular damage. While this may seem counterintuitive, the damage actually stimulates the cells to produce more collagen — a protein that provides structure to the skin.
The increase in collagen results in tighter, firmer skin with fewer wrinkles. Since the high-frequency ultrasound beams are focused on a specific tissue site below the skin's surface, there's no damage to the upper layers of the skin and adjacent issue.HIFU may not be appropriate for everyone. In general, the procedure works best on people older than 30 with mild-to-moderate skin laxity.
People with photodamaged skin or a high degree of loose skin may need several treatments before seeing results. Older people with more extensive photo-aging, severe skin laxity, or very saggy skin on the neck aren't good candidates and may need surgery. HIFU isn't recommended for people with infections and open skin lesions at the target area, severe or cystic acne, and metallic implants in the treatment area.
Benefits of high-intensity focused ultrasound
According to the American Society for Aesthetic Plastic Surgery (ASAPS), HIFU and other nonsurgical alternatives to facelifts have seen a major increase in popularity over the last few years. The total number of procedures performed has increased 64.8 percent between 2012 and 2017.
HIFU has many aesthetic benefits, including:
wrinkle reduction
tightening sagging skin on the neck (sometimes called turkey neck)
lifting the cheeks, eyebrows, and eyelids
enhancing jawline definition
tightening of the décolletage
smoothing the skin


HIFU vs. facelift
While HIFU carries far fewer risks and costs than a surgical face lift, results may not last as long and repeated procedures may be needed. Here's a summary of the major differences between each procedure :
What does HIFU feel like?
You may experience slight discomfort during an HIFU procedure. Some people describe it as tiny electric pulses or a light prickly sensation.
If you're worried about pain, your doctor may suggest taking acetaminophen (Tylenol) or a nonsteroidal anti-inflammatory drug (NSAID), such as ibuprofen (Advil), prior to treatment.
Immediately after the treatment, you may experience mild redness or swelling, which will gradually recede over the next few hours.
HIFU for face procedure
There's no special preparation needed before having an HIFU procedure. You should remove all makeup and skin care products from the target area before treatment.
Here's what to expect at your appointment:
The therapist will first cleans the target area.
They may apply a topical anesthetic cream before starting (30 mins before the treatment).
The therapist then applies an ultrasound gel.
The HIFU device is placed against the skin.
Using an ultrasound viewer, the therapist adjusts the device to the right setting.
Ultrasound energy is then delivered to the target area in short pulses for roughly 30 to 90 minutes.
The device is removed.
While the ultrasound energy is being applied, you might feel heat and tingling. You can take a pain medication if it's bothersome. Additional treatments will be needed (every 2 months for HIFU Relift or every 8 months for Full HIFU).
You're free to go home and resume your normal daily activities right away after the procedure. However staying out of the sun and wearing a sunscreen are recommended.
HIFU: The Takeaway
HIFU is considered a safe, effective, and noninvasive procedure for tightening the facial skin. Its advantages over a surgical face lift are hard to deny. There are no incisions, no scarring, and no required rest or recovery time. HIFU is also far less expensive than a facelift. Most people see full results three months after their final treatment.
If you're looking for a treatment that is quick, painless, and noninvasive, HIFU is an excellent option compared to a surgical face lift. Of course, HIFU isn't a miracle cure for aging. The procedure is best suited for patients with mild-to-moderate skin laxity, and you may need to have the procedure repeated in one to two years as the natural aging process takes over. If you're older with more severe skin sagging and wrinkles, HIFU may not be able to eliminate these skin issues.