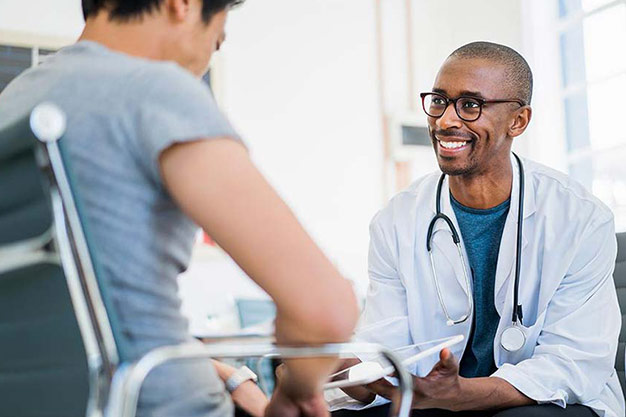 Overview
We see online claims that we can "boost" our immune system with just about everything from Vitamin C or Vitamin D to essential oils and silver nanoparticles. But how do we know which of these recommendations, if any, really work?
That makes knowing what to do challenging. Plus, how do we know if something that helps with another virus will help with this new coronavirus? As you can see, there is much we simply cannot know.
Finally, if you are older or have an underlying health condition (including diabetes and high blood pressure), you have an increased risk of severe symptoms, and potentially, loss of life from COVID-19. We recommend taking every precaution to avoid it.
If you're young and otherwise healthy, your risk of complications is much lower. If you do contract the virus, you'll probably have mild symptoms and fully recover within a couple of weeks.
However, it's possible that you may be infected with the virus without showing any symptoms. So maintaining excellent hygiene and practicing social isolation are crucial to avoid spreading it to high-risk individuals.
With that in mind, here are some of our top tips to decrease your risk for catching the virus or having complications from COVID-19.
The Basics
These are things that you can do today that don't cost anything. We recommend you prioritize these basic steps for protecting and improving your health — and potentially your immune system.
While these actions are always important aspects of maintaining good health, they may be crucial during times of increased risk, like now.
Proper handwashing: the coronavirus is killed by proper handwashing for 20 seconds with soap or using hand sanitizer that is greater than 60% alcohol.
Don't smoke: Smokers have an increased risk of catching infections and suffering severe complications from those infections. We shouldn't need more reasons not to smoke, but a time like this highlights the importance even more.
Get adequate sleep: Sleep is important for health in general, and as a bonus it may also benefit our immune function. For instance, one study showed those with insomnia had, on average, less immune response to the influenza vaccine, while another study in twins showed those with worse sleep had altered expression of genes related to immune function. In times like these, you should prioritize sleep hygiene.
If you're isolated at home, that likely means more time on electronics like tablets, phones, and TVs. This may be a good time to invest in blue-light blocking glasses and to look for non-tech related activities to do in the evening, like puzzles, crosswords, or reading an actual book (not an ebook!).
The right amount of exercise: Observational studies show that those who exercise tend to suffer fewer infections than those who do not.
Our advice? Stay active, but remember: now is not the time to start a new high intensity exercise routine. If you already enjoy strenuous exercise, consider decreasing the frequency or intensity by 10-20% (this is not scientifically backed but is recommended by some experts).
Also, try to focus on home or outside exercise. Shared gym equipment, like weights and cardio machines, may be surfaces that transmit the virus.
Stress Management
While acute stressors may temporarily enhance immune functions, chronic stressors likely diminish immune function. Worrying about the stock market, stressing about having enough toilet paper, and focusing on the uncertainties of the future can raise cortisol levels, which may negatively impact our immune function.
We can't make this stressful situation disappear. But we can all take measures to control our response to stress. Meditation, mindfulness exercises, and getting outside and going for walks are all examples of activities that are free and relatively easy to do.
If you drink alcohol, drink in moderation:
In times of stress, some people turn to alcohol as a coping mechanism. While meditation, nature walks, and mindfulness exercises are likely healthier ways of coping, for some they aren't enough, and alcohol adds a little something extra. There's no judging here. We all have to do what we can to get through tough times.
However, studies show a relationship between chronic heavy alcohol consumption and increased susceptibility to infections.
The trick is knowing where to draw the line. While there is little science, most experts suggest that a reasonable daily limit is two drinks for men and one drink for women. Keep in mind that following a low-carb lifestyle may decrease your tolerance to alcohol, so you may need to adjust your intake.
Over-the-counter pain and fever medications for coronavirus
Without having clear data, it is difficult to know what to do. But perhaps err on the side of caution for now until better quality data is available. Instead of taking an OTC pill for a headache or fever, consider starting with cool sponge baths, damp washcloths, and remember to rest and drink plenty of fluids with electrolytes.
The best advice is if you have a fever, see your doctor immediately and not self-medicate.
Summary
In short, the reason that this new coronavirus is spreading so rapidly and having such a significant impact on people around the world is that we lack immunity to it. Our immune systems have never seen it before.
The more actions we take to keep ourselves generally healthy, the better.
Good hand hygiene and social distancing can help prevent catching the virus. Doing what you can to reduce specific risk factors may help your body recover quickly if you do become exposed.
Even if you don't become exposed, your overall health may benefit from the following:
Eating a nutritious diet that minimizes high blood sugar
Prioritizing restful sleep
Managing your stress
Stopping smoking
Participating in moderate exercise that you enjoy
Getting sunshine and fresh air where possible
While there is not yet robust scientific evidence, taking some specific supplements may improve your overall health and are likely to not be harmful if taken as directed. If nothing else, we recommend taking Vitamin D and C because you may be deficient at this time of year.